North Shore Bike Shop
rentalS • Sales • Rides • Repair • Supplies
Whether you're looking for a scenic road ride or want to pin it down a trail – the Bike Doktor's got you covered. Come talk story and let me show you the biker's Kauai.
If you're interested in cycling on Kauai, come visit us in the magical town of Hanalei. The North Shore Bike Doktor has everything you'll need to make the most of your Kauai biking experience. From road, mountain, and cruiser bike sales and rentals, to equipment, supplies and full service bike repair, the North Shore Bike Doktor is here to help!
Notice: Hanalei is the new end of the road. Since Kauai's catastrophic flooding on April 14-15 2018. Any mode of travel past Hanalei town prohibited. This means parking is often impossible to find, especially accessing the beach. I recommend parking at my bike shop (reserved for Bike Doktor customers only) and renting a cruiser to get around painlessly.
Hanalei Cruiser Rentals
basket and lock included.
Single-speed cruisers = $10/day
7-speed cruisers = $15/day
John 'Johnny Makani' Sargent (A.K.A. The Bike Doktor)
Everyday I wake up I look forward to the work day ahead. How many people can say that? Yeah, talking bike stuff is really cool, but I just get a kick outta helping/teaching people about biking. Get stoked about biking! Feel the air rushing through your lungs, concentrate on the trail ahead, it's mental therapy! It's the best way to get some endorphins and adrenaline flowing throw your veins, bonafide 'fountain of youth'.(Plus hanging out with a bunch of guys and gals younger than you doesn't hurt)
Just want to give a shout out to a couple guys that have changed my world. First of all Winston Welborn, my best bud for the last 37 years, who turned me on to mountain biking in 1986 after going to college and coming back to Kauai just LIT! To Rob Shanks who got my web page started whether i wanted to or not. Just the nicest most sincere no whine guy that anyone would want on their bike team. And to Justin Britt, our team internet guru and web designer who has buffed out my web site and tutored me in squarespace(no easy task with a 58 year old), but way more than that....his energy just keeps us pumped up no matter how wet the trails are or how crappy the surf is, just proud to have him as a bro brah. Then there is Greg 'Chopper' Randolph who I was lucky enough to meet some ten years ago and we became fast friends. His article in BIKE Mag (May 2015) has really helped a lot of people realize the biking potential on Kauai and for that I am deeply grateful.
Mahalo nui and Aloha!
Phone
(808) 826-7799
Location
5-5052 Kuhio Hwy
Hanalei, HI 96714
Hours
T-F 9am–4pm
Sa 10am–3pm
Su-M Gone Riding
All hours subject to surf.
The Bike Doktor is an official reseller for Marin Bikes, Yeti Cycles, Trek Bikes and Electra Cruisers. Understanding what we do here is simple. Just ride one of our bikes and you'll get it. Every hour we put into sweating the smallest details, tweaking geometries, and twisting wrenches is for you, for every moment you're on the bike, when you forget the rest, focus on the ride, and enter another world.
We also sell eBikes and beach cruisers of different makes and models. Contact us for more info.
New models of Marin mountain bikes are available for rent on a daily, weekly, or other basis. Mountain bikes are Marin 29'er hardtails and are great for riding both road and trail. Full suspension bikes can also be had for a bit more. Beach cruisers, hybrid bikes and comfort bikes are also available. All MTB rentals include helmet, cruisers have basket and lock.
Single Speed Cruisers
Single speed cruisers are an absolute must for getting around Hanalei. You can cruise all of Weke Rd. from Hanalei Pier to Wai'oli Park and never needlook for a parking space. Bikes have locks and baskets. Ibert child seat available
7 speed Cruisers/Comfort
Not really necessary for the flat terrain around Hanalei but a little more comfort with the hand brakes. If your staying in Princeville or Ha'ena, you may want to consider a bike with gears because of the hills. Basket and lock included. Ibert child seat compatible.
Road/Hybrid Bikes
Unless your a serious road bike rider your gonna hate riding the roads here. Without going to deep into it, I have no road bikes available but I do have hybrid city style bikes which have road gearing and wheels with a MTB style bike geometry.
Mountain Bikes
Full suspension bikes from Santa Cruz, Marin, and Trek.
Hardtail bikes are Marin Bobcat Trail 5
Whether it's a road, mountain, or cruiser bike, the Bike Doktor can get you back on your bike with expert bike repairs and servicing. Bikes of all makes, models, and conditions are welcomed!
We stock a variety of gear such as helmets, gloves, socks, hydration packs, nutrition items, and more, to keep your rides fun and safe. Bike Doktor T's and Hats are also available in an assortment of colors and sizes. 'North Shore Bike Doktor' team jerseys and shorts also available.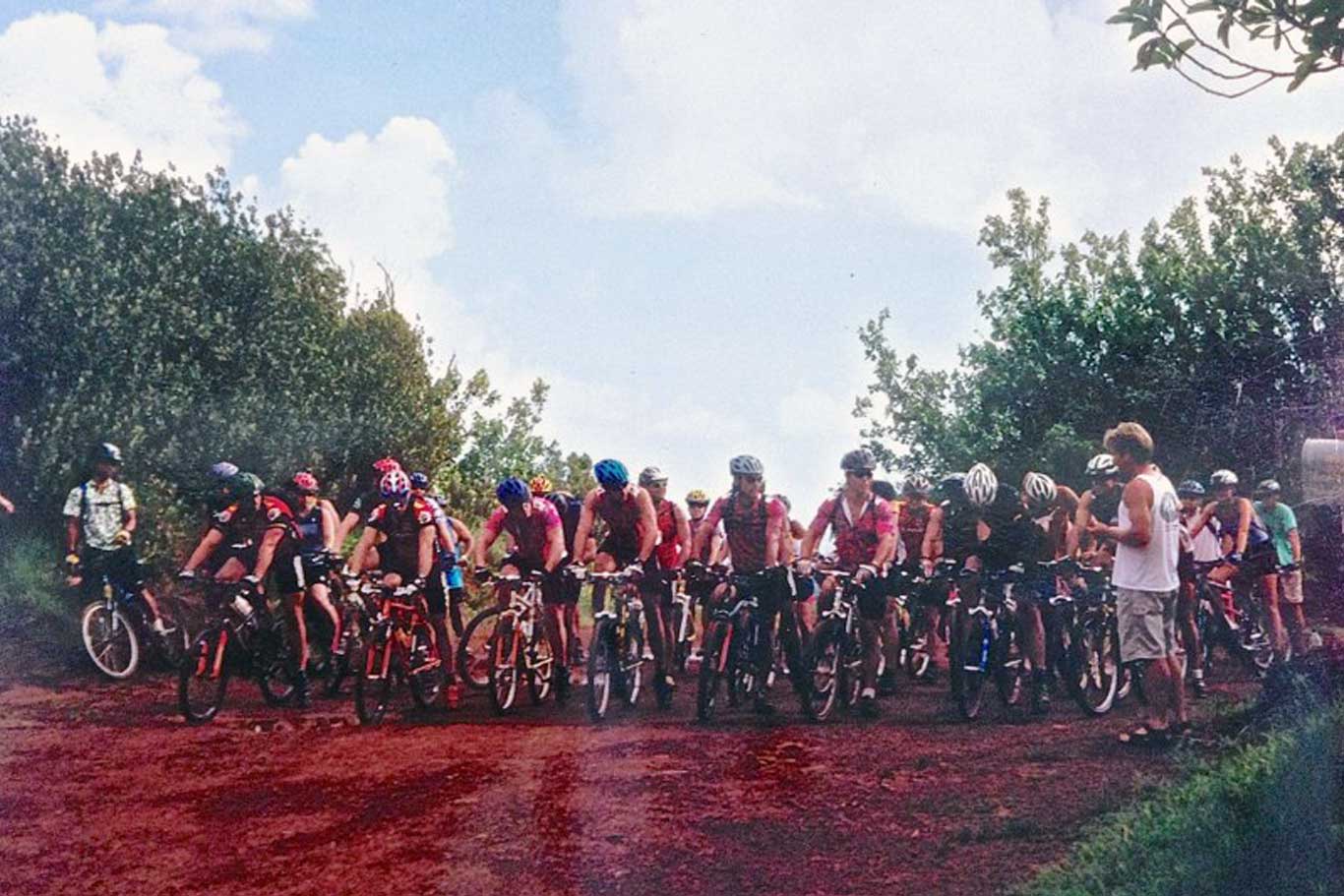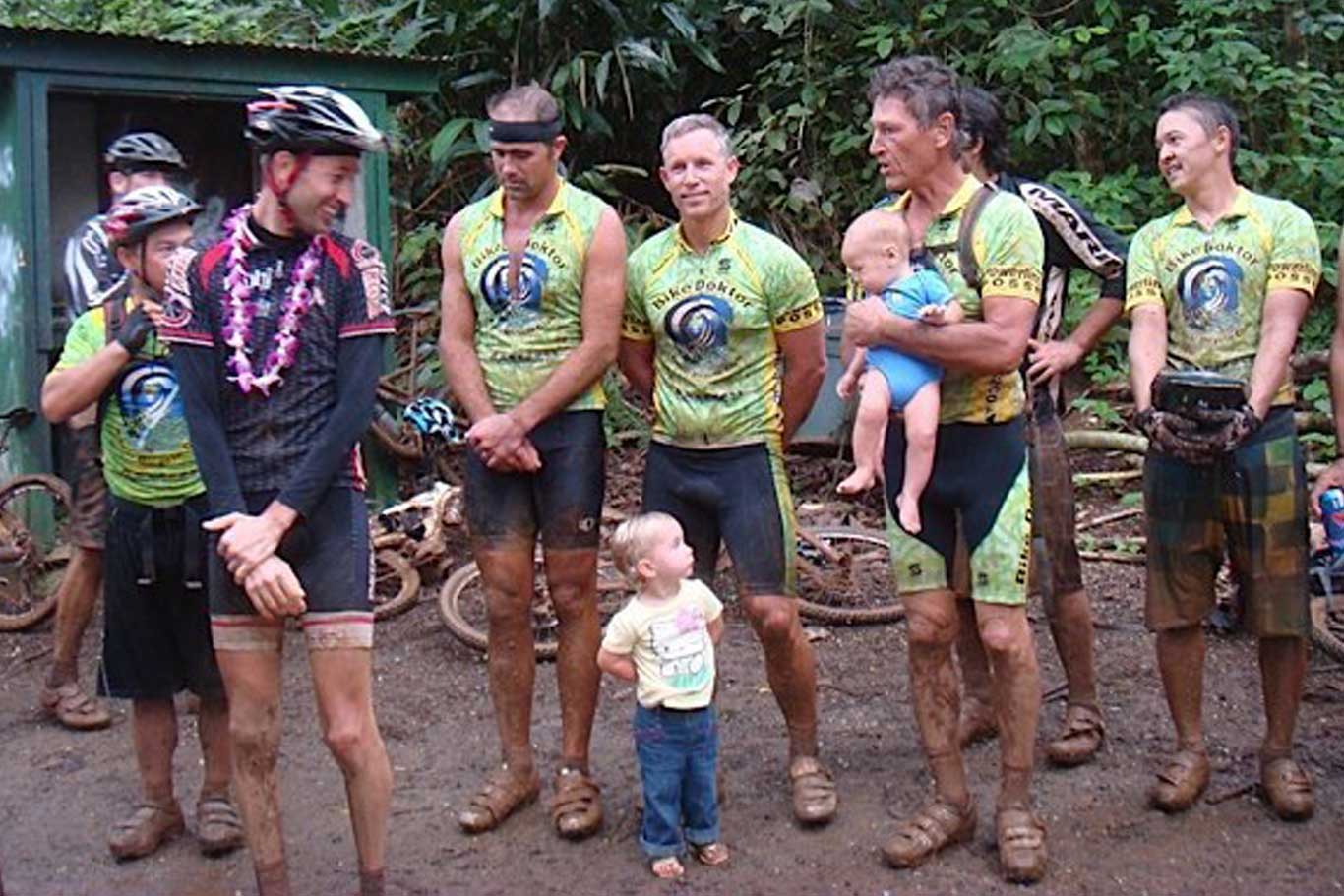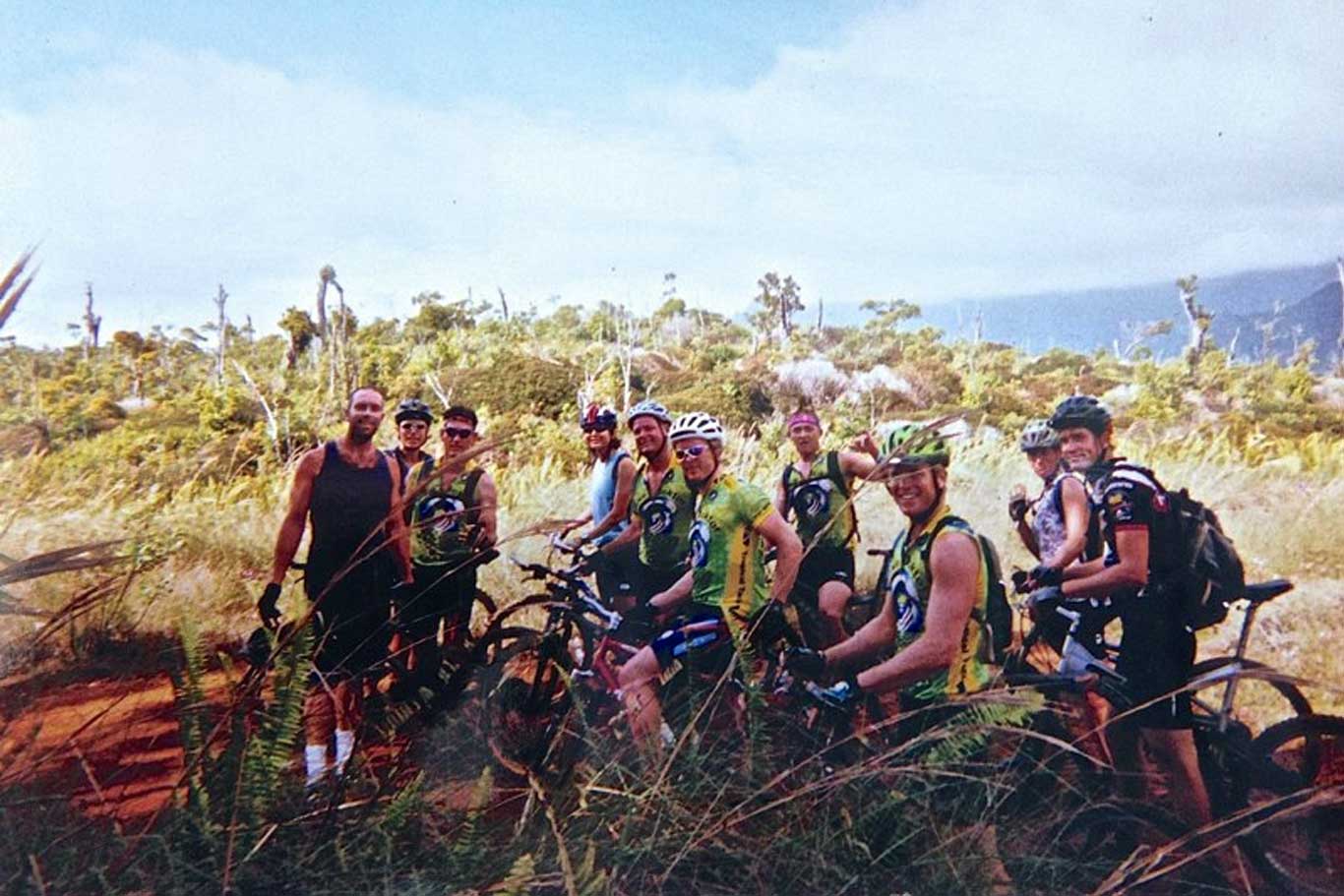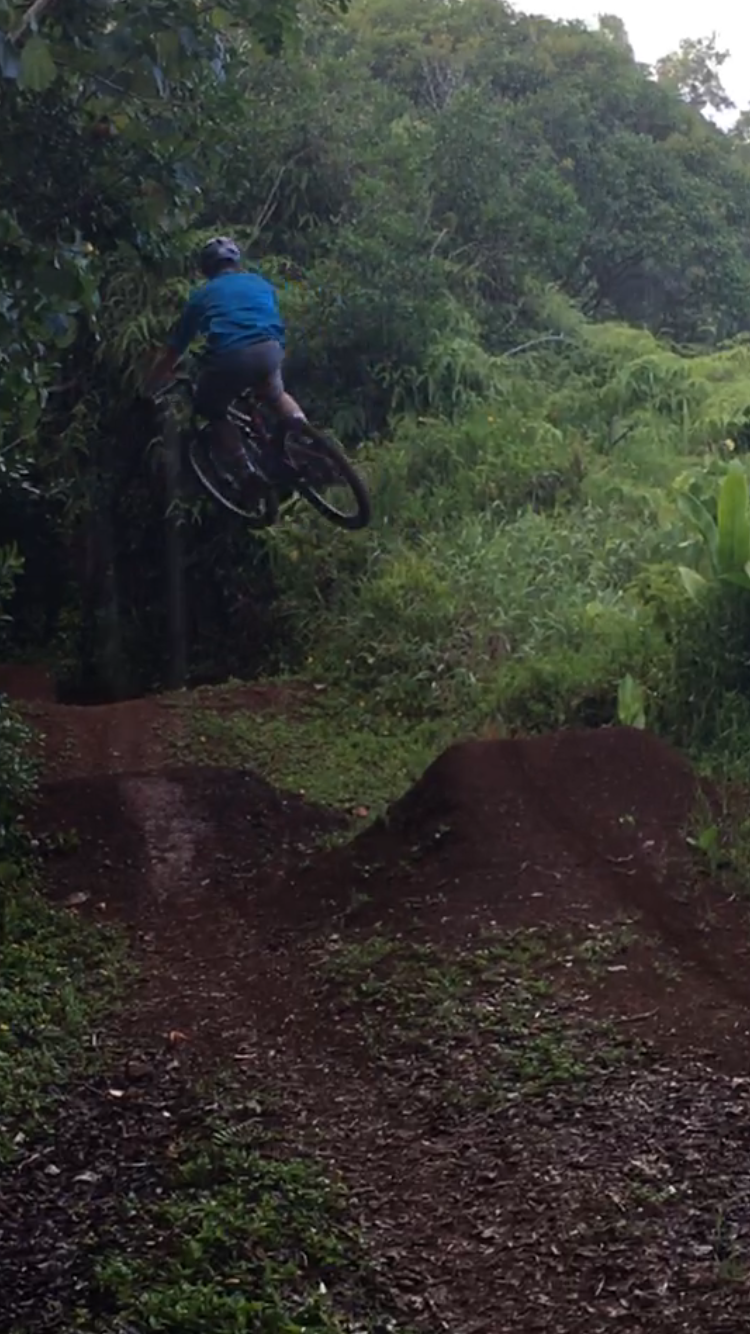 If you're coming to Kauai on vacation, it can be real "hit and miss" with weather conditions for offroad riding. Even if you reserve a bike, sometimes it's just not rideable in the dirt and you may be road riding instead. I recommend stopping by the shop or calling to check out the trail conditions and what's going on when you get here. Remember, everything on Kauai is pretty extreme. From Na Pali kayaking, hiking, swimming, surfing, and most definitely biking – the most extreme things give the best rewards.
What to Bring
Bring as much of your gear as you can. 1 each of: Pedals/Shoes, shorts/jersey, gloves, socks, helmet, glasses, camelbak. If you can't fit it all, then prioritize.
I supply bike, helmet, and lock if needed. I also have spd pedals.
Kauai offers a variety of mountain bike trails, from beginner to expert. Trails don't have signage however, nor will you find them on a map. Unfortunately, the weather dictates when and where we can ride on any given day and Kauai being the 'Garden Isle' means its very hard to plan a ride in advance. Some trails will tolerate a little rain, most will not. The dirt turns into sticky mud that will stop your bike and force you into walking back. Auwe!!!
If you'd rather venture out on your own, the easiest trail to follow will be the Nounou (a.k.a. Sleeping Giant) trail in Wailua. Otherwise, come talk story with me and I can give you directions to the best riding based on daily conditions.
Kauai has some of the sketchiest road cycling from the North Shore to the West Side. Roads are very narrow with too many cars. One of the best road rides is from the bottom at Kekaha to the Kokee State Park. The climb is approximately 15.75 miles and climbs 3,800 feet in elevation. Or you can continue the ride to the top at Kalalau Lookout another 400ft. in 3 miles. In May there is a race called Pedal to the Meadow. Do it early to beat the heat and traffic.
If you're looking for something a little more leisurely, try a ride from Hanalei to the Haena Beach Park. This roughly 16 mile out and back and doesn't gain or lose much elevation, so it will be much easeir than the Kokee ride. And the scenery is breathtaking!
(Sorry, the Hanalei to Haena Beach Park and Ke'e ride is closed to biking at this time.)
Contact me for pricing and availability.
Group rides start at roughly 4 pm on Fridays and 8:30 am on Sundays. The ride is basically for my fellow local riders and is a great opportunity for us all to get together and ride/train/race. So if you are an avid mountain bike rider/racer, this might be the best way to see the trails. The Friday rides tend to be a little more fun and leisurely. The Sunday ride is gonna be a little harder and longer. This is usually an 'A' team ride and will require more gear.
The Kauai Bike Path is located on the East Side, starting in Kealia and ends in Wailua at the Lydgate Park. This is an easy path that's great for beginners.
TUE-FRI 9 am - 4 pm
SAT 10 am - 3 pm
SUN-MON Gone riding…
All hours subject to surf.
5-5052 Kuhio Hwy
Hanalei, HI 96714
Leave a Message
I'll try and get back to you in 48 business hours. But if the riding and/or surf is going off – I can't make any promises!